Community Banks of Colorado & Continental Sausage
Continental Sausage, with its rich history, quality of taste, and all-natural processes, is undoubtedly a leader in the foods industry of Colorado. And its business practices follow suit. Although the company is proud of its beginnings as a family business and its traditional European equipment, Continental Sausage is progressive in its management style and emphasis on company culture and philanthropy, making it an ideal partner for Community Banks of Colorado.
Owner Eric Gutknecht has worked in the industry since he was 8 years old, packing sausage at his family's sausage company. His father's grandfather and grandmother each owned sausage companies in Switzerland, so when they got married, they combined to form the largest sausage company in Switzerland at the time. Eric's father grew up like him, learning how to make sausage, but also learning how to run a business and how to run it efficiently. They have a knack for production.
"He's wired a lot like I am, and how we think is similar," said Eric. "We are always thinking about how to minimize the time it takes to do a task."
Today, Eric and his wife Jessica are owners of Continental Sausage, which they bought in 2003. The Denver-based sausage company was started 50 years ago by a Swiss immigrant. Continental Sausage originally catered to the many Europeans that immigrated to Colorado in the 60s and 70s, but today you can find its products in stores like Whole Foods and Costco.
Customers probably know them by their retail brand, CharcutNuvo, which is described as "ultra-premium, small-batch charcuterie products that appeal to the modern palate." Eric and Jessica are confident about the superior taste of their product.
"When people taste it, they pretty much buy it," Jessica said.
They are also confident in the way they run the business. With many employees that have been with them for years, the group gets their families together for company picnics. They also join forces to support Denver Kids, a non-profit Eric is passionate about, which empowers kids in high-risk environments through mentorship programs. Every year, the employees participate in the Colfax Marathon, where they have a relay race to raise money for Denver Kids.
It was Community Banks of Colorado's similar focus in community involvement and a relationship-focused approach that prompted Eric and Jessica to choose Community Banks of Colorado after interviewing about 10 different banks.
"I'm part of a CEO group, and Community Banks of Colorado hosted a meeting for us at their facility," said Eric. "We met the CEO of the entire bank, and we learned about all the things that they do in the community, as well. We just felt perfect alignment, so it was a no brainer to go with them."
After walking through the factory and learning the intricacies of the business, banker Kelly Wright was able to help efficiency by introducing technology that brought Continental Sausage up-to-date. They now use remote banking, while previously they had been making daily runs to the bank to deposit checks at the end of the day. Community Banks also helped Continental Sausage minimize their interest payments with sweeping lines of credit.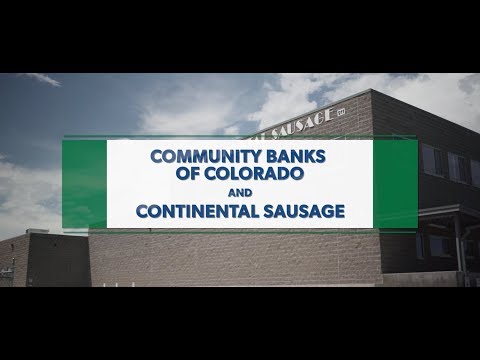 Above all else though, Continental Sausage was most impressed with the way Kelly and her team took the time to learn the ins-and-outs of the business. "They're great, especially compared to some of these bigger banks where you're really just kind of a number," said Eric. "They get to know our business. They understand the cycles of the business. We are very seasonal. They understand that. They know when we need money and when we don't need money."
"I like to sit down and take the time to get to know clients, understand how their business is run, what they're looking for, and what their actual needs are," Kelly said. "That's the way you can actually help someone and put together something that makes the most sense."
Eric and Jessica emphasized how the bank is not only responsive to their banking needs, but is involved in supporting Continental Sausage in whatever ways they can. When Kelly and the team heard about Eric's involvement with Denver Kids, they sponsored a table and attended Denver Kids' annual fundraising breakfast, and Kelly is now involved in a committee at Denver Kids.
"It's kind of unheard of for your bankers to do something like that," Jessica said. "It's just a different experience than we've ever had before."

"I'd like to think we go above and beyond, but really we just do what's right," Kelly said.
Community Banks of Colorado is founded on the principles of simplicity, fairness, and a focus on relationships, so partnering with Continental Sausage just made sense. Continental Sausage's company-wide dedication to doing things the right way, from sourcing natural clean products to never cutting corners in production, ensures company success and a delicious high-quality product. Some may call it old-fashioned, but we call it the common sense way to do business.